Since 2004, the President and Congress have declared the month of October to be Cybersecurity Awareness Month, a dedicated month for the public and private sectors to work together to raise awareness about the importance of cybersecurity.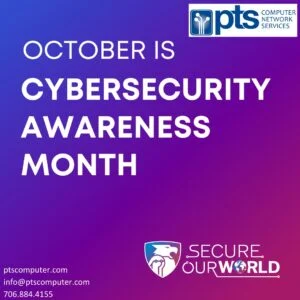 To do our part, PTS will be sending out several short, frequent tips and suggestions. So follow us on social media to receive these useful, quick notes.
To get more details about CyberSecurity Awareness Month, see the office CISA website here.

PTS is locally owned and operated with over 30-years of IT, computer, network, and security service & support experience. We partner with customers to help them exceed their goals and achieve the maximum return on their investments. Whether it's for a small business or a large corporation, our experience and industry-recognized IT training make the difference. Contact PTS today!